CFD simulation refers to numerical flow simulation, where CFD is the abbreviation for "Computational Fluid Dynamics". The aim of this simulation method is to mimic flows and flow patterns computationally. In this way it is possible to visualise and analyse flow paths and patterns without carrying out an actual flow measurement. Furthermore, with the help of a CFD simulation, you can better understand flows and, above all, consequently optimize components and systems.
In addition, with the help of a CFD simulation, you can better understand the flows and, above all, functionality and performance already in the design phase and find critical regions. This way, fewer resources are consumed even before manufacturing costs are incurred, thus optimizing components and systems.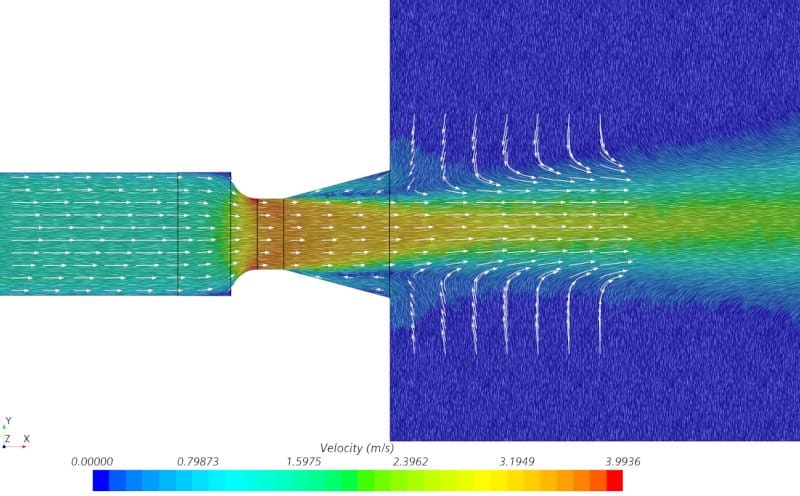 A simulation of the flow is in comparison to a flow measurement
faster

 

cheaper and

 

does not require any safety precautions.

 
Numerical flow simulation is above all an important development tool if measurement is too time-consuming, cost-intensive or not possible for safety reasons. In addition, the benefit relates to the energy consumption of any technical equipment and vehicles that have gas, air or liquids flowing around or through them. For example, in a car, turbocharger, pump, pipeline as well as a vacuum cleaner, the energy consumption is directly dependent on flow or pressure losses. The cause of a flow or pressure loss is flow separation, also called recirculation. These are caused, among other things, by component elements, which are located in the flow guidance and sharp deflections as well as in unsteady cross-sectional expansions. By means of a CFD simulation, unfavorable flow patterns can be uncovered and minimized early on in the development process. A CFD simulation is therefore a tool for optimizing flow-carrying components and systems in a targeted manner and, above all, for designing them in an energy-efficient manner.
What is a CFD simulation? - A brief mathematical background
Although flows and related phenomena can be described with differential equations, they cannot be solved analytically (apart from a few special cases). Computational fluid dynamics uses various mathematical-physical model equations in order to achieve a technically usable flow solution through approximate calculation of the equations. The most frequently used model equations are, for example, the Navier-Stokes equations, Euler equations, Stokes equations as well as the potential equations. 
What is flow simulation? - The fields of application
Fluid mechanics challenges include pervasive problems related to both pressure drop, uniform distribution, and heat transfer in complex systems, as well as energy consumption. CFD simulation is also typically applied to fluid, gas, and bulk material flows. Furthermore, the benefits of flow simulation therefore extend across diverse industries, products and processes. Examples are 
Flow around vehicles, missiles, hulls

 

Engine cooling systems, battery cooling systems

 

Car air conditioning

 

medical inhalers, filters

 

Heat exchanger

 

Mixer

 

Vacuum cleaner, vacuum cleaner nozzles

 

Design and optimization of pumps

 

Aerodynamics of helmets, bicycles, ski bindings

Burners, furnaces, pressure boilers, exhaust gas aftertreatment

 
On these pages you will also learn, how you can accelerate and optimize your product development process with the help of CFD simulations.
Are you curious ?
Inform yourself about our complete range of services and contact us !
Thematic contributions and project examples