Through a Moldflow analysis, we visualize the manufacturing process of your plastic components. With us, you can therefore detect injection molding errors (for example, due to shrinkage and warpage) at an early stage of production planning and can specifically counteract them with our expert advice. As experts in plastics and structural mechanics, we also map the fiber orientation of fiber-reinforced plastics, and can therefore use coupled Finite element simulation make a statement about the strength of your components.
Optimize your injection molded parts by a Moldflow analysis and identify weak points in the injection molding process !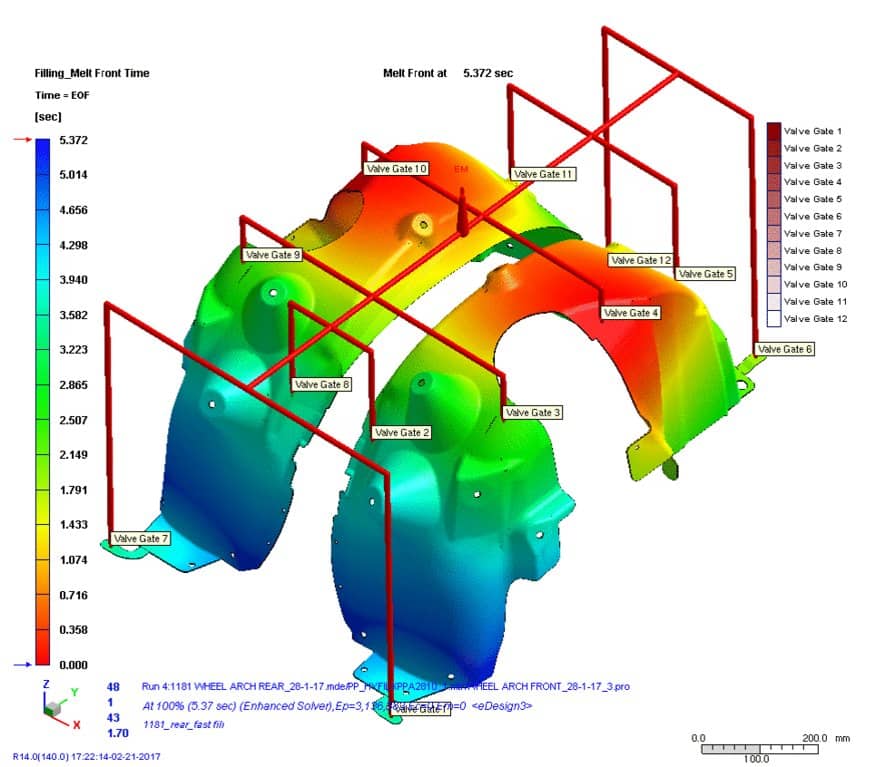 Injection moulding simulation- Our services:
Gate situation
Representation of the distribution system
Filling simulation and warpage analysis
Shrinkage in the component
Warpage
Different materials and media
Overmouldings
Mapping of the fibre orientation for fibre reinforced plastics
Strength calculation (FE analysis) under consideration of the fibre orientation
Gas injection technology (GIT)
Water Internal Pressure Technology (WIT)
MuCell process
Results and benefits of the simulation of injection moulding processes
Determination and optimization of the cycle time
Determination of moulded part defects
Minimization of warpage
Determination of the spraying pressure on cores
Calculation of component and mould temperature
Improved component and tool quality
Optimization and constructive redesign of the component
Determination and optimization of process parameters
Optimisation of cooling and holding pressure phase
Already first samples with good parts due to optimized tool construction
Strength calculation of components by coupling with FE- Simulation
Experienced plastics specialists and application consultants from the automotive sector ensure that there are no unpleasant surprises in the production of your injection molded parts. Depending on the industrial sector and the workpiece to be produced, different plastic materials are used. As a rule, material data such as flow and solidification behavior, but also shrinkage and warpage for standard materials are known and already stored accordingly in the simulation software.
Injection moulding with special plastics
Occasionally, however, it happens that in some industries or for some applications special plastics are used for which we do not have any material data. As a rule, however, this is not a problem for us. There are some well-known testing institutes that test and classify special plastics and prepare the measurement data for use in a simulation accordingly for us. Due to our many years of experience in the field of plastics, we have established intensive cooperation with corresponding material testing facilities. As a result, we know which testing facilities are best suited for testing special plastics and can thus react optimally to the requirements of our customers. However, time and costs also play a role here.
Determination of material data for the analysis
Extensive material testing (provided that the suitable testing facility has capacity available on the desired date) often takes several weeks. The costs for the classification of plastics and the corresponding preparation of the simulation data should also not be underestimated. It is therefore not uncommon for our customers to opt for a similar material for which we already have the relevant data. Therefore, we are of course happy to advise you when it comes to determining the suitable area of application for your material and/or coordinating an appropriate material test.
Within the scope of material testing, it is often even possible for the relevant material testing facility to produce the required material samples (for tensile tests, for example) for us or our customers. Thus, we can coordinate the determination of the material data for you and you only have to provide your raw material in the form of the corresponding granulate. This therefore makes us a powerful partner for you !
For this reason, simulate your production process with us and a corresponding Moldflow analysis. We will be happy to help you avoid unpleasant surprises by identifying critical areas for you and finding solutions for smooth and cost-effective production.
Do you have questions or need more information ? You'll find here answers to the most common questions about the preparation of offers and the project process !
Please contact us, and request our free, non-binding offer today !
Thematic contributions