Plastic is a material consisting of macromolecules in particular. Thereby, the most important material properties of plastics are properties such as plasticity, hardness, elasticity, the energy of destruction, heat resistance and heat resistance. However, chemical resistance, fire resistance and operating temperatures also play an important role in plastic construction.
Through the choice of polymer and production technology, these properties can be in a wide range of applications. Numerous plastics manufacturers offer corresponding base materials (mostly in granulate form). In addition, additives are usually added. Plastics can be processed, for example, into semi-finished products, moulded parts, films, but also into fibres.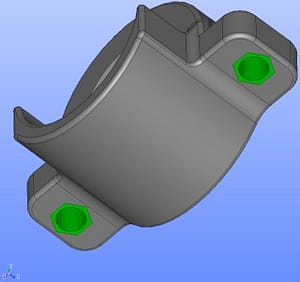 Plastic designs are used, for example, in packaging materials, but above all in the automotive industry, where every gram of weight saved often counts.
What are thermoplastics ?
Thermoplastics can also be divided into four application categories according to price, performance and possible uses. Standard plastics are very flexible and consist, for example, of polyvinyl chloride but also of polyethylene. Engineering plastics have a higher mechanical strength than ordinary plastics, can maintain these properties at temperatures above 100°C and below 0°C and are mostly used in technical buildings. Functional plastics have a single function and can also be used as odour and gas barriers in plastic packaging. However, they form a separate category.
The difference between conventional high quality plastics and ordinary, technical and unique plastics lies in the heat resistance and in some cases in the sufficient mechanical resistance, which is especially important in the construction of components made of plastic.
Possible applications of engineering plastics
Engineering plastics have many advantages in design and in many cases open up great opportunities over metal or ceramic materials. In addition, additives for engineering plastics are usually the most effective choice for achieving specifically desired material properties in rare technical projects. Therefore, these materials have a special innovation potential in any industry.
Many unusual engineering plastics or thermoplastic polymers for the construction of plastic parts can be easily processed. These plastics have higher thermal or mechanical resistance than the more common plastics. Compared to bulk plastics (such as polyethylene, polypropylene, PVC), which are commonly used for packaging purposes and are not used in the construction of engineering plastic parts, engineering plastics are more commonly used for main mechanical energy or heat resistance requirements. They are as expensive as heat resistant plastics. However, there is also the possibility of using mixtures and thus achieving material improvements when designing with plastics for the specific application. When designing plastic components, we usually take into account the different properties of versatile engineering plastics.
Engineering plastics can be fully utilised up to a temperature of approx. 100-150 °C. These products are often referred to by manufacturers as engineering thermoplastics and are ideally suited for the construction of technical components made of plastic.
Material selection and production planning of plastic components
In mechanical engineering, a large number of material databases have become established for selecting the right materials for components made of plastic. Today, it is almost impossible to imagine development without them. However, the implementation of plastic designs in a real component requires a thorough understanding of the manufacturing possibilities. Unit quantities also play a major role in the financial planning of production. This must also be taken into account in the design of plastic components.
The aim is generally to deepen the understanding of these problem areas and to advise you optimally on your project with our experience !
Learn, how we can support you in the development of your products and with the design of high functional plastic parts !
Are you curious ?
Inform yourself about our complete range of services and contact us !
Thematic contributions